Regular price
$24
Sale price
$24
Unit price
per
Sale
SOLD
The Tale of the Disappearing Cold. When the symptoms knock, lock the door.
Scent profile: piney, mysterious, warm, camphorous
Acute – To clear mucus, decongest sinuses and improve breathing, inhale 30 seconds every hour, up to eight times per day, and/or rub three times per day until symptoms disappear.
Year Round Protection – To protect yourself in germ-filled environments and boost your immunity year-round, inhale for 30 seconds once a day. Long term, consistent use improves results.
good for health | clarity | cold symptoms | flu symptoms | lung health | infections | grief
Breath: Place two drops in palms. Rub hands together. Cup hands over nose and mouth. Inhale deeply. Repeat for 30 seconds.
Body: Place three drops in palm. Massage around ankles and soles of feet.
Flower Essences of elm (ulmus procera), allium (allium sativum), crab apple (malus pumila), oak (quercus robur).
View full details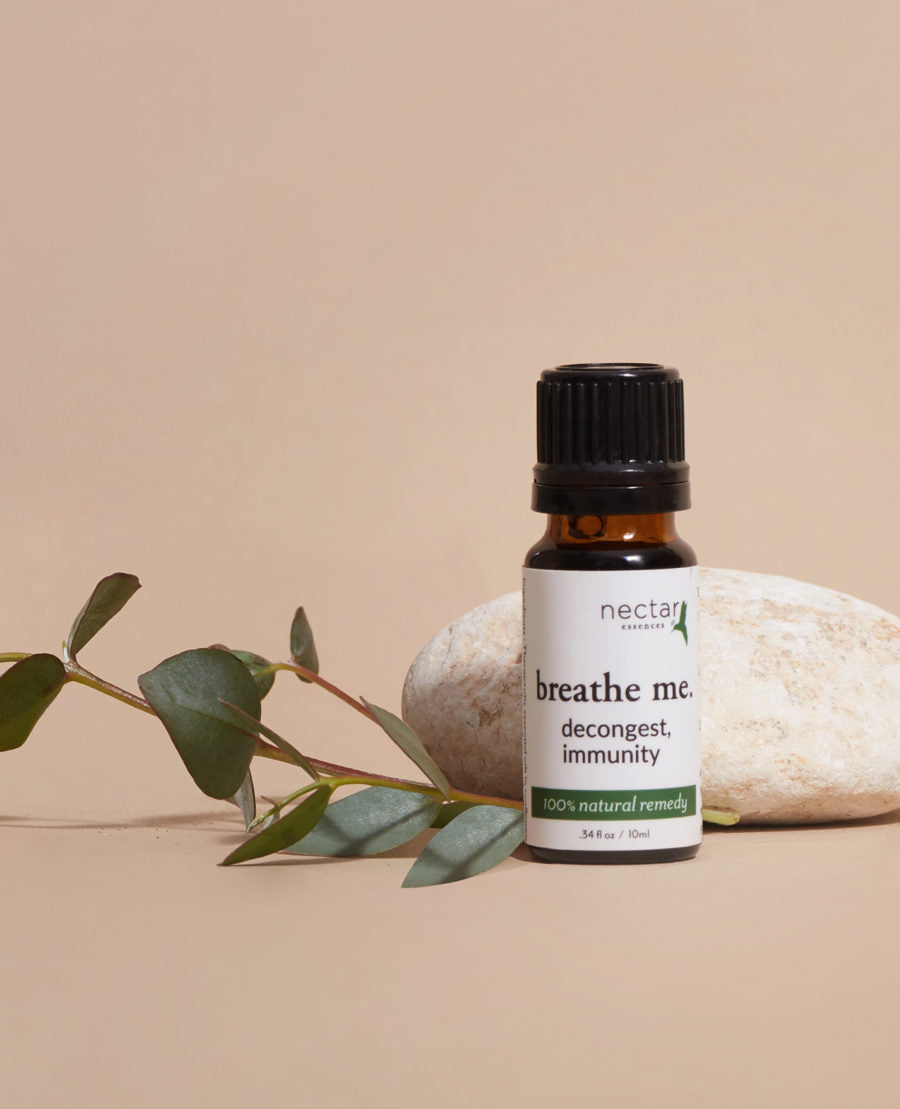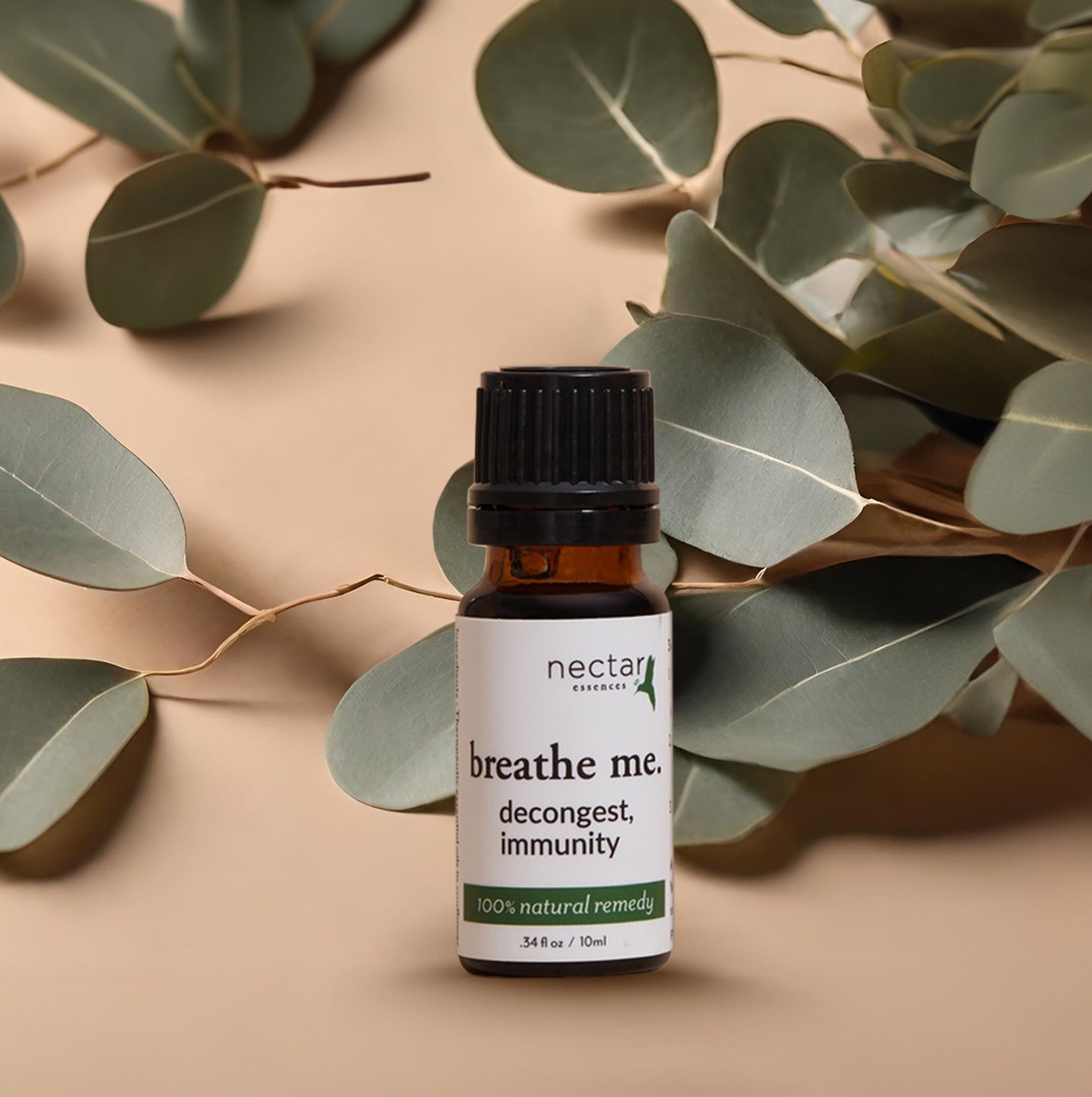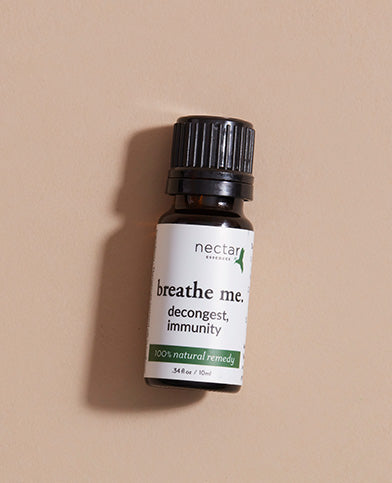 I'm still so thankful that I came across the little trial sizes of nectar eo's a few years back while traveling. I love to collect, experience and experiment with essential oils so I bought a few kinds and fell immediately in love with the smell of this Immunity Decongest. I find it to be multi-layered, meaning I can detect different ingredients at different times and yet they meld & mingle together beautifully.
Even better, after I began to wear this regularly, it felt like I was better able to fend off germs and illnesses – like I had created a little scent-sheild of protection around me. I keep some diluted in a carrier oil in a roller-ball vial and as a nanny, I apply prior to every time with kids. If they are sick as they often are, I douse myself well and re-apply throughout the day. As a side benefit, it also helps the babies when they are stuffed up to breathe better. I'll rub it on my chest/neck and in holding them close when putting them to sleep they get to inhale this as well which helps them to sleep clearer and longer (perhaps). And as a yoga teacher, I use this on myself and on students prior to practice or pranayama to help open up the breathing channels & creating a deeper aromatherapy experience.
I would honestly bathe in this if I could afford to – it is pricey I think. But even using it daily as I do, if I use it sparingly – and sometimes just inhaling it directly from the little vial of pure oil I always carry – I'll go through about 3-4 of the larger 10ml bottles a year. I will add that I do not find it to be too strong or overpowering – but my daughter and my mother do. I continually offer it when they are congested – even made my old-fashioned mom a "Vick's-like" substitute with this in calendula & beeswax. They aren't sold yet but I think they just aren't giving it a chance (maybe because it's my thing but I won't digress into family dynamics….😉
Anyway, I thought I'd finally leave a review here because
1) I am back to order another bottle to make sure I don't run out in the coming months, and
2) I have plenty of time to write as I have been isolated at home for a week now due to COVID-19 with no end in sight! Good health to all beings and give this remedy a try (along with the stronger arsenal we may sadly need to use these days)
THE ONLY THING THAT WORKED ON MY BRONCHITIS
Recently, I had a horrible bronchial infection that lingered on for months. I just couldn't stop coughing and nothing seemed to work. I was even put on multiple rounds of antibiotics by my doctor to no avail. Once I started using decongest, I started to have some relief. I would make an infused steam every morning and night and also put it into my humidifier. After just a few short days, the infection had cleared and it was amazing! Plus, the essences feel fresh and natural unlike Vicks or other synthetics. Thank you Nectar for saving me!
NO LONGER NEED MY BRONCHIAL INHALER
Like this product so much- the smell, the ease, the fact it works ! I was using a bronchial inhaler, not any more, this worked better.
COLD & FLU SEASON MUST-HAVE
I work around a lot of people & a lot of them come to work sick! I use this daily to help boost immunity & stay well.
SUPER IMMUNITY WORKS FOR EVERYTHING!
I am currently going through treatment for Hodgkin's Disease, a type of lymphatic cancer. The treatment has caused me to have severe BO. Nothing I was trying worked so one day I tried Super Immunity instead and it took the smell away. Such an amazing product.